The Goodalls to represent Arkansas mortgage firm
May 23, 2015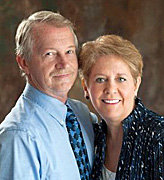 The Bank of Little Rock Mortgage, in its 18th year in business serving as a residential mortgage provider for central Arkansas, has opened a new branch office in Joplin. Joplin residents Bob and Annette Goodall, pictured, will be managing the branch, Bob serving as the market manager and Annette as a loan officer.
During their marriage the Goodalls have worked together for 35 years. Recently they were nominated for a small business of the year award.
"We're thrilled to join Bank of Little Rock Mortgage in Joplin," Annette Goodall said. "We've been doing mortgage loan services for over a decade, and we're glad to bring that experience to home buyers in Joplin."
The office is open at 3625 20th St., Suite B, Joplin.