Joplin Little Theatre announces its 2015-16 season
June 08, 2015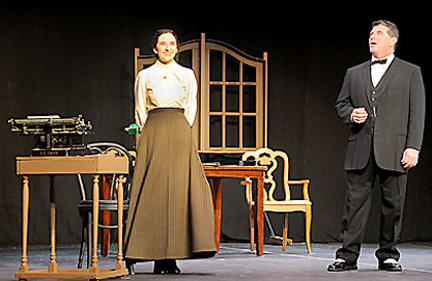 Bertha Bancroft (Ashley Trotnic) is shown in a happier moment with her unscrupulous boss Daniel Desboro Desmond (Roscoe Miller), president of the National Farmers' and Merchants' Loan, Mercantile Trust and Exchange Bank. They starred in Bertha, the Beautiful Typewriter Girl, the first play performed at the Joplin Little Theatre and consequently chosen to be the final performance of their 75th anniversary season.
Theatre buffs are encouraged to support the Joplin Little Theatre, the oldest continuously running community theatre west of the Mississippi as it enters its next 75 years. During the 32nd Annual Encore Awards Night held on June 6, 2015, Chet Fritz, emcee, hoped that those youngsters in the audience would be part of the next 75th celebration and up until then along with others contribute to keep the theatre alive.
For the names of Encore winners for the 2014-15 season go here.
The JLT's 2015-2016 season includes:
Sept. 23-27, 2015 - The Full Monty is a British comedy musical about six down and out guys who decide to become strippers. Afterall, what do they have to lose besides their clothes? Directed by Bill Perry, it is an opportunity for creating well-drawn characters as they develop a sense of purpose in their lives.
Dec. 9-13, 2015 - Plaid Tidings is a holiday musical written by Stuart Ross in 2001 to cheer people after September 11. The main characters portraying a singing group who will be directed by Carolyn McGowan all seem to have a disability but the biggest one, of course, is when they are killed in a bus accident and have to come back to Earth to perform.
Feb. 3-7, 2016 - Seven Keys to Baldpate, is a 1913 play by George M. Cohan based on a novel by Earl Derr Biggers. In this play directed by Jim Lile, a novelist bets a wealthy friend that in seclusion he can write a 10,000 word story within 24 hours but he is interrupted by seven all too familiar stock melodrama types (he's written about them) with keys hired to foil his attempt.
Mar. 30-Apr. 3, 2016 - Other Desert Cities, is play by Jon Robin Baitz that became a finalist for the 2012 Pulitzer Prize for Drama. Directed by Greg Swartz, the play pits family members of differing viewpoints against each other and centers around the possible exposure of a long-held family secret.
May 25-29, 2016 - One Flew Over the Cukoo's Nest, is a tale about the antics of rebellious Randle Patrick McMurphy who fakes insanity to serve a jail sentence in a hospital rather than prison. This was a very popular 1975 movie starring Jack Nickelson as McMurphy and Louise Fletcher as Nurse Ratched. It will be directed by Lisa Wood.
Season tickets may be purchased up to the opening night of the first show; subscribers must select a night to attend each performance although tickets may be exchanged in person for another night of the same show. Tickets are non-refundable. The cost of an adult ticket for the season is $65; student and senior citizen, $55; and patron, $75 (with recognition in each playbill). The cost of a life membership is $1,500 per person and may be paid in three consecutive yearly installments of $500. Subscriptions may now be ordered through an online ticketing service. For questions about ticketing send an e-mail here. Individual tickets for musicals are $15 for adults, $13 for students/seniors and $6 for children younger than 12. Tickets for non-musicals are $13 for adults, $11 for students/seniors and $5 for children younger than 12.
Flex tickets, coupons that may be exchanged for a ticket at any time, are sold any time in blocks of five for $65. They make good gifts. They must be exchanged in person for regular tickets. A lifetime membership may be purchased for $1500 and entitles the holder to two tickets for each performance and recognition in the playbill.
Advertise in playbill
Various-sized advertisements may be placed for the 2015-16 season. The running ads will be inserted in playbills that are distributed at each performance. 1/3 page ad is $75, 1/2-page is $125 and a full page is $250. For more details call the theatre at (417) 623-3638 or send an e-mail here.
Two homes for JLT
A group of thespians during the 1930s staged plays at the high school in Joplin, the Paramount Theatre, the Scottish Rite Temple, or anywhere else with space for a stage. The Joplin Little Theatre was incorporated in 1939. Park Playhouse, whose structure originally was an old riding academy, was purchased in November 1946 from investments in victory bonds and a gift from George A. Spiva. On 20 lots just north of Schifferdecker Park, the playhouse has been renovated to what it is today.
Adding to the pot
For a $250 donation a plaque will be attached to the back of an available seat of your choice with the money raised going toward the purchase of new auditorium seating. At that time all the name plaques will be moved to the new seats.
Help support the JLT by contributing $1250 ($250 per month). The contributor will receive 10 regular season show tickets, business (if appropriate) featured in a lobby display, two tickets to the Angel Guild gala, a full-page ad in the playbills and acknoweledgement before every performance.
Of course, besides new faces for tryouts, volunteers are always needed as set builders, painters, scenic and lighting designers, costumers and backstage crews.
The Joplin Little Theatre is located at 3009 W. First St., west of Schifferdecker Avenue. Phone (417) 623-3638.