Heer's becomes downtown living option
August 17, 2015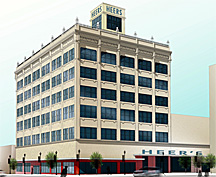 Heer's Luxury Living, LLC, 138 Park Central Square, announced its grand opening of 80 units of luxury rental housing and 18,000 square feet of commercial space in downtown Springfield.
The ribbon-cutting celebration included comments from numerous local and state officials on the importance of downtown revitalization and an additional announcement of a ground floor tenant: IntrinsiQ Specialty Solutions.
After sitting vacant for nearly 20 years and changing hands several times, Dalmark Development Group, LLC took ownership of the former Heer's Department Store building in April 2013. Dalmark Development Group, LLC then announced their plans to convert the southwest Missouri landmark into luxury rental housing and commercial space.
The financing for the building's rehabilitation was achieved with private equity, a small business development loan from the City of Springfield, and construction loans. The project also qualified for state and federal historic preservation tax incentives, as Heer's was placed on the National Register of Historic Places in 2002.
Heer's Luxury Living, LLC provides one and two-bedroom apartment units ranging from 620 square feet to 1,605 square feet, with leases starting at $690 per month. Residents will enjoy an onsite fitness center, theater entertainment room, clubhouse lounge with rooftop deck, and the convenience of downtown Springfield dining and entertainment.
"Today, we celebrate what many thought was impossible - the rehabilitation and rebirth of the iconic Heer's building," explained Mary Lilly Smith, City of Springfield Director of Planning & Development. "Heer's is an iconic building for Springfield, and it's certainly a milestone to have the building restored to its former glory."
To receive more information--amenities and floor plans-- go here.