Missouri's number of critical bridges is growing
August 31, 2015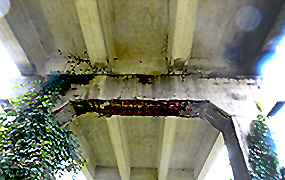 City of Carthage Route 96 BNSF Railroad Bridge hits warning list.
Six Missouri bridges have been added to a list of closures or restricted use due to problems revealed during regular routine inspections, according to an announcement by the Missouri Department of Transportation. The 80-year old bridge in the city of Carthage on Route 96 over the BNSF Railroad now carries a weight restriction of 10 tons. While it allows an average ambulance to pass over it, the warning restricts passage of an average loaded school bus, fire truck or garbage truck. (see chart below for determining weight of combination of vehicles on the bridge at the same time.)
Historically, this Jasper County bridge carries about 4500 cars per day. Detouring on local roads is suggested. So far, repairs are unplanned and unfunded.
"This situation is symptomatic of where we are," MoDot officials warn. "We have the nation's 7th largest system of roads and bridges but our funding comes in at 47th in the nation."
A total of 641 bridges are considered to be in critical condition, up from 591 in 2014, MoDot claims. Rating bridges on a nine-point scale with nine being a new bridge and two being a closed bridge, the department says that Missouri's critical bridges carry either a three or four rating. For more about bridge ratings go here.
The other bridges, their locations and condition are: Route D over Turkey Creek in Lincoln County (closed); Route H over int Cuivre River in Lincoln County (holes in roadbed are requiring unfunded patching); Route T Middle Fork of the Chariton River west of College Mound in Macon County (closed); I-44 outer road Gasconade River Bridge in Laclede County (closed); and Route H North Wyaconda River Bridge, north of Arbela in Scotland County (closed).
This chart shows approximate weights of vehicles traveling on Missouri roads.
For an earlier article go here.