Support the JLT with history book order
September 27, 2015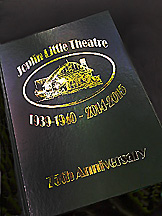 In celebration of its 75th anniversary the Joplin Little Theatre is offering a deluxe coffee table history book. The limited edition book with over 400 pages features information about all the shows produced through the years. It includes a listing of over 3,000 performers and adjunct staff, Curtain Call and Encore Award winners, Children's Summer Workshop event participants and a who's who in theatre governance.
"It is a true keepsake to anyone who has been involved with Joplin Little Theatre and for all members of their families," said Cecie Fritz, historian and book editor. It also is a way to support the Joplin Little Theatre, the oldest continuously running community theatre west of the Mississippi.
The book is being offered at $65 per copy. To order find a printable form here.