Meet Gary Smith
October 06, 2015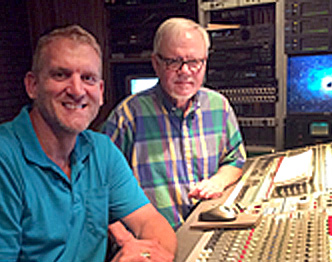 Working on a new album release with Boxcar Willie Jr., pictured at left, is artist/producer Gary Smith, pictured at right, of Nottingham Studios in Springfield. Containing mostly original music, the album will feature a never-before-heard duet by Boxcar Jr. with his father.
by Mary Avila
I recently had the opportunity to interview Gary Smith, a world-class guitarist, record producer, writer and publisher. He owns and operates the Nottingham Recording Studio in Springfield. Gary has performed with and/or recorded with well-known artists, too many to mention. The interview appears below:
(Avila) Hi Gary, I consider it an honor to be interviewing you. Tell me how this amazing career started for you. When did you start playing the guitar?
(Smith) I knew I wanted to play guitar at age 5. By age 7 I had saved up my money until I had around nine dollars. My mother took me to Sears to look for one. The Silvertone Stellaís were $15. She put the other $6 in and I took it home and I started taking guitar lessons. They were 50-cents a week. By the time I was 14 I started playing gigs professionally. I would sneak out of the house to go play across the county line at honky-tonks. There was chicken wire in front of the stage to protect the band from thrown cans and bottles.
(Avila) Can you tell the readers and myself a few of the highlights of your career?
(Smith) Sure, one was playing with The Ozark Mountain Daredevils in large outdoor festivals with crowds in the tens of thousands. Another was jamming with Glen Campbell backstage before we went in for the taping of ďA Glen Campbell ChristmasĒ aired on TNN. Iíll also never forget recording guitars with Roy Clark. One of my favorites was meeting Chet Atkins when working with Ray Stevens. Chet autographed six of his records that I acquired as a young boy. And, another was having a chart record at age 16. Our group ďFront Page News,Ē a high school garage band was signed to Dial Records, a division of Atlantic Records. The song Thoughts made it to #19 in Billboard.
(Avila) Gary, what type of artists do you produce or record at Nottingham Recording?
(Smith) Well, I have recorded pretty much all genres of music, but in addition to well known or established artists, I work a lot with new and upcoming vocalists and writers. Sometimes its a self contained group or a vocalist/writer that wants me to produce their record. I also produce vocalists that often need help with their songís arrangement and structure. I have had vocalists approach me to produce them, but they arenít a writer and have no original material. I then contact major publishers from all over the country for songs, often times from hit writers. Today, with the internet and the ability to send files and communicate, itís not uncommon to work with a vocalist/writer from anywhere in the world. I have two projects in progress right now that are in Florida and Colorado where I will probably actually never meet the artist.
(Avila) What big projects are you working on now?
(Smith) Currently, I am producing a CD for Boxcar Willie Jr., son of the late Boxcar Willie. I am also producing a new project and co-writing with hit songwriter, Jerry Gillespie. Jerry has written several # 1 hits and high charting songs such as, Do you love As Good As You Look, (Bellamy Brothers), Somebodyís Knockin, (Terri Gibbs), Heavenís Just A Sin Away, (The Kendalls) and Gwen, Congratulations, (Tommy Overstreet). Many of his songs have been covered by such artists as Tom Jones, Gail Davies, Karen Taylor-Good, Kenny Rogers, Jerry Reed, B.B. King, Cristy Lane, The Osmond Brothers, etc.
(Avila) What is it like as a musician having a recording studio in Springfield, MO?
(Smith) Actually, it feels pretty normal as I have been working in and running studios for several decades. Most studio owners are musicians. I have seen very few that werenít. Itís almost a prerequisite. I find you have to wear a lot of hats to do this. I tech all of my equipment, I write the charts, I produce and engineer, I play and book all of the players, etc.
(Avila) Gary do you still play any music gigs?
(Smith) Occasionally I get a call and go do a live gig, but mostly I stay buried in the studio.
(Avila) Gary, it was wonderful interviewing you.