Unique adventure is under construction in Branson
October 07, 2015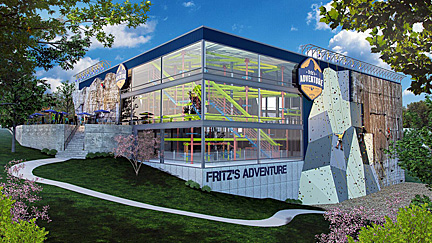 Plans have been unveiled for a first-of-its-kind $10 million family adventure attraction to be open 365 days a year in Branson. Construction for Fritz's Adventure, an attraction that brings the challenges of outdoor adventure into a multi-dimensional indoor environment, has a summer 2016 target completion date.
The three story structure will house 80,000 square feet of adventure, according to an announcement by spokesperson Trey Pelz. Challenges will include hands-on climbing, tunneling, sliding, swinging and zip-lining. Featured will be utility poles, towering rock climbing walls and giant boulders to climb, an impressive parkour area and ropes course to master, urban brick buildings to scale, a water tower with multiple slides, tunnels and tubes to burrow in and an air-worthy airplane to explore. Adventures are adapted to every age group and ability.
"Fritzís Adventure delivers the sense of adventure with a perceived element of risk, while in a strategically engineered and safe environment," Pelz explained. "It is a place where you can experience elements of the world around you, that anywhere else would be prohibited or discouraged. Parents, teenagers, grandparents, toddlers, and kids alike are encouraged to explore an adventure together."
A restaurant with a healthy menu will overlook the indoor adventure park from the second floor. In addition, party rooms for groups and/or special occasions are planned.
The project is located on the site of the former Silver Fountain Inn. The inn, long abandoned and an eye-sore, was located at 1425 W 76 Country Blvd, Branson.