New MoDOT director assumes role Dec. 7
November 06, 2015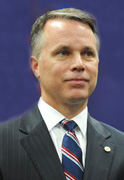 Patrick McKenna, pictured, the recent deputy commissioner for the New Hampshire Department of Transportation, has been named the new MoDOT director. He will take office on December 7, 2015, replacing Interim Director Roberta Broeker, who will return to her previous position as MoDOTís chief financial officer..
The Commission was looking for a salesperson and innovator who is well versed in the infrastructure funding challenges that exist across the country.
"We were looking for someone with a track record of working collaboratively with elected officials, industry leaders, and citizens in finding solutions through innovative funding and financing options," the MoDOT Commission announced. And they claim that the final decision in selecting a candidate was not easy given what they called the "tremendous talent" of those who applied for the position.
The experience that McKenna provided as chief financial, operating and legislative officer put him ahead of the field. Prior to gaining that experience he held leadership positions in the public, private, and non-profit sectors. He began his professional career with the US Senate Office of the Secretary where he rose to the position of CFO. He left government to lead a small business as a sole proprietor of a real estate holdings company. He then served as the chief financial officer of a statewide non-profit.
McKenna has a B.S. in finance from Bentley University in Waltham, Massachusetts and a master's in management and finance from the University of Maryland. He has been involved in youth sports organizations both as a coach and by serving on several boards of non-profit sports foundations.
He is married and has two sons and a daughter.