Missouri Senators say, no refugees in Missouri
November 16, 2015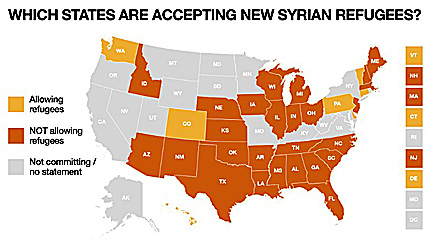 After the recent terrorist attacks in Paris, France over the weekend, 18 of the 34 Missouri Senators, including Senate Majority Leader Ron Richard are urging Democratic Governor Jay Nixon to suspend the acceptance of Syrian refugees wanting to relocate in Missouri.
Richard, a Republican as are the others, said that protection of our citizens is too important to risk allowing individuals in who may seek to infiltrate our nation in order to carry out terrorist attacks.
"The state of Missouri will not be forced to make up for this administration's mishandling of America's foreign policy," said Richard. "We will not idly stand by while our citizens are put in harm's way. We call upon our governor to do his duty and protect the safety and well-being of the citizens of the Show-Me State by opposing this misguided plan. We will always remember we are a nation of immigrants, and we are willing to welcome those who come to seek better lives for themselves and their families through legal channels. But, we cannot allow poorly vetted individuals to come to our state without an in-depth screening process. I urge the governor to suspend the acceptance of Syrian refugees until the Department of Homeland Security can assure us the procedures are safe and a full review of security threats has been completed."
A growing number of governors, mostly Republicans, have voiced opposition to accepting Syrian refugees in their states. Under the Refugee Act of 1980 and backed by the opinion in 1941 and more recent rulings of the Supreme Court (Arizona v. United States - S.B. 1070), the national government's immigration policy is supreme and states' rights are negated. However, pundits have pointed out that states are able to deny their own resources to support such policy.