Scarves around Joplin: Yours for the taking
November 18, 2015
It's a simple concept: help the community chase away winter's chill by spreading a little warmth to those who need it most.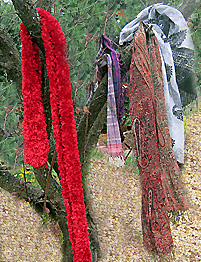 Citizens of Joplin will do just that during Chase the Chill, a free yarn bombing-type event that distributes scarves in public places so that those in need, regardless of income and without any qualifications or other criteria, can help themselves.
Scarves are draped on trees, over bridges and on other locations around town. They are tagged with an invitation to anyone to claim ownership of the scarf.
"I think its great that there isn't any special requirement for receiving a scarf," said Ann Leach, project coordinator. "You like a scarf? Take it."
Leach shared the idea of joining this national movement with other members of the Unity Church of Joplin. She got permission from the city of Joplin to yarn bomb the streets of Joplin and then the church began reaching out to individuals and organizations for help.
Volunteers are needed to help with the event by donating scarves at area collection locations, attending a tagging session to prepare the scarves for hanging and actually hanging the scarves around town.
Donated scarves may be dropped off at Unity Church of Joplin, 204 N. Jackson St.; the Joplin Public Library, 300 S. Main St.; Spiva Center for the Arts, 222 W. 3rd St. or Homewood Suites, 2642 E. 32nd St.
"We'll be hanging the scarves starting at 2 p.m. on December 19, 2015," Leach said. "And we'll be holding a couple of sessions to tag the scarves too. Our times and places aren't set yet, but people can learn more by liking the Facebook page or contacting me directly at 417-438-6808 for updates."
The Chase the Chill event was started in 2008 by Susan Huxley in Easton, Pennsylvania. "Huxley's intention was to celebrate the art of knitting and crocheting and building community," Leach said. "But you don't have to make a scarf yourself. Purchased and gently loved ones are welcome too. I just love that idea that during some of our most darkest winter days, the city of Joplin will have these little bursts of color appearing around town."