Working to save the Shoal Creek Low Water Bridge
May 21, 2016
To the editor:
Thanks to some great research done by Kevin Martin, we now know a lot more about the history of the Low Water Bridge on Shoal Creek.
According to a Joplin News Herald article dated Nov. 13, 1917, (see end of this post) a real estate dealer named D.O. Witmer leased to the city of Joplin, 40 acres of Shoal Creek frontage which was made into a beautiful public park. Shortly thereafter, the Joplin City Council granted Witmer a permit to construct, at his own expense, a concrete bridge across Shoal Creek at McIndoe Park. In addition to the bridge, a new road would also be built to connect McClelland Park Road to South Main Street Road.
A point of interest: The bridge was permitted by the city of Joplin noting that Mr. Witmer was constructing the bridge at his own expense, thus it was privately-owned, and construction began in the Spring of 1918 and was completed in 1919. The park, at that time, was named after Hugh McIndoe, Joplin's first mayor, but the low water bridge was never formally named. Considering this fresh information, I respectfully request that the city of Joplin, and/or Newton County, determine if this bridge was ever formerly transferred, sold or donated to the city and/or county by Mr. Witmer, or his survivors, and under what stipulations. I have reviewed the zoning information provided by the city but this does not mention the low water bridge.
Roderick Harsh, chairman, Save the Low Water Bridge Committee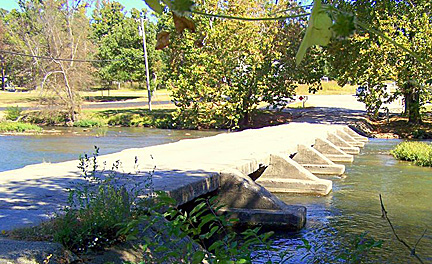 LOW WATER BRIDGE AT MCINDOE PARK, JOPLIN
Editor's note: Harsh is working on the completion of a Landmark Nomination Form that as a historical landmark would insure the preservation of the Jackson Street low water bridge at least for pedestrian or bicycle use in good weather. Last April 2016 the Joplin City Council had agreed to spend up to $1 million or 50 percent of the replacement cost of the bridge that as the name suggests floods during heavy rains. Needed was an agreement by Newton County to fork over the balance presumably with funds from MoDOT. If achieved construction could take place in 2018.
A group calling themselves the 'Save Joplin's Historic Low Water Bridge" suggested that a new location for the bridge should be closer to Main Street and the new Mercy Hospital. It was estimated that the replacement there would not exceed replacement of the bridge in its present location and would eliminate the expense of removing the existing bridge that many believe is part of Joplin's history. For more information go here.