Joplin Little Theatre announces its 2016-17 season
June 07, 2016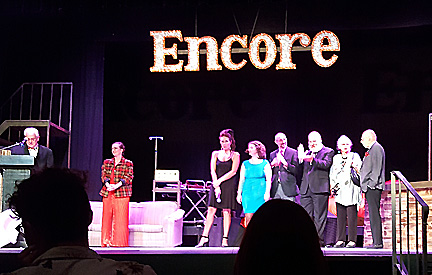 At right the directors of the Joplin Little Theatre 2015-16 shows gather during the 33rd Annual Encore Awards Night held on June 4, 2016, in order to hand out awards to those volunteers whom they decided best supported them during their productions. Pictured L-R are emcee Gary D. Rooney and his assistant Niki Corcoran and directors Lisa Wood (The Full Monty, Yes, Virginia the Musical and One Flew Over the Cuckoo's Nest), Jade Nicholas (The Full Monty), Greg Swartz (Other Desert Cities), Jim Lile (Seven Keys to Baldpate), Carolyn McGowan and Bill Perry (Forever Plaid).
For the names of Encore winners for the 2015-16 season go here.
Theatre buffs are encouraged to support the Joplin Little Theatre, the oldest continuously running community theatre west of the Mississippi as it moves past its 75 years in existence. At a special event the audience was polled in order to choose which productions would be presented.
These are the choices for the JLT's 2016-2017 season:
Season tickets may be purchased up to the opening night of the first show; subscribers must select a night to attend each performance although tickets may be exchanged in person for another night of the same show. Tickets are non-refundable. The cost of an adult ticket for the season is $65; student and senior citizen, $55; and patron, $75 (with recognition in each playbill). The cost of a life membership is $1,500 per person and may be paid in three consecutive yearly installments of $500. Subscriptions may now be ordered through an online ticketing service. For questions about ticketing send an e-mail here. Individual tickets for musicals are $15 for adults, $13 for students/seniors and $6 for children younger than 12. Tickets for non-musicals are $13 for adults, $11 for students/seniors and $5 for children younger than 12.
Flex tickets, coupons that may be exchanged for a ticket at any time, are sold any time in blocks of five for $65. They make good gifts. They must be exchanged in person for regular tickets. A lifetime membership may be purchased for $1500 and entitles the holder to two tickets for each performance and recognition in the playbill.
Advertise in playbill
Various-sized advertisements may be placed for the 2015-16 season. The running ads will be inserted in playbills that are distributed at each performance. 1/3 page ad is $75, 1/2-page is $125 and a full page is $250. For more details call the theatre at (417) 623-3638 or send an e-mail here.
Two homes for JLT
A group of thespians during the 1930s staged plays at the high school in Joplin, the Paramount Theatre, the Scottish Rite Temple, or anywhere else with space for a stage. The Joplin Little Theatre was incorporated in 1939. Park Playhouse, whose structure originally was an old riding academy, was purchased in November 1946 from investments in victory bonds and a gift from George A. Spiva. On 20 lots just north of Schifferdecker Park, the playhouse has been renovated to what it is today.
Adding to the pot
For a $250 donation a plaque will be attached to the back of an available seat of your choice with the money raised going toward the purchase of new auditorium seating. At that time all the name plaques will be moved to the new seats.
Help support the JLT by contributing $1250 ($250 per month). The contributor will receive 10 regular season show tickets, business (if appropriate) featured in a lobby display, two tickets to the Angel Guild gala, a full-page ad in the playbills and acknowledgement before every performance.
Of course, besides new faces for tryouts, volunteers are always needed as set builders, painters, scenic and lighting designers, costumers and backstage crews.
The Joplin Little Theatre is located at 3009 W. First St., West of Schifferdecker Avenue. Phone (417) 623-3638.