Order your Maple Leaf Forever Flag now
July 15, 2016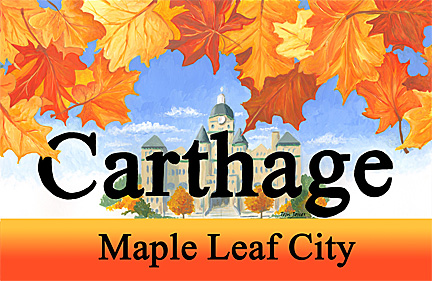 MAPLE LEAF FOREVER FLAG
A design submitted by Tom Jones has been chosen for the Maple Leaf Forever Flag, according to an announcement by Neely Myers, membership director for the Carthage Chamber of Commerce. Pictured above, it features a swag of maple leaves and a clear blue sky framing the Jasper County Courthouse, the focal point of the downtown Carthage Square.
"The flag represents what Carthage is all about--fall, fun, tradition and the Maple Leaf Festival," Myers said. She called attention to the timelessness of the flag, meant to be used year-round.
Several sizes of flags, including a large 5X3 foot, a medium 3X2 foot, and a 12X18 inch garden flag are now available for purchase. Order forms are available at the Carthage Chamber of Commerce, 402 S. Garrison. Orders placed before September 1st are guaranteed to be delivered by October 1, 2016
Maple Leaf Festival Chairperson Jeanine Poe said, "We want to absolutely blanket the town with flags to help get all of our residents, visitors, and guests as excited about the festival as we are."
For more information contact Mary Jo at the chamber office by phoning (417) 358-2373 or sending an e-mail here.