Join a book discussion; learn about Oklahomans
February 15, 2016
"Let's Talk About It, Oklahoma" is the name of a free five-session book discussion that will take place at the Har-Ber Village Museum this spring. The books, personal memoirs of ordinary people, create a collective autobiography of Oklahomans from the frontier era to a recent past that is somewhat different from what may be found in textbooks. These intimate accounts, communications from grandparents to their descendants, often are attempts to explain the meaning of their lives in hopes that others may profit from these experiences.
The schedule for the program (Thursdays) and the names of the books, their authors and discussion leaders appear below.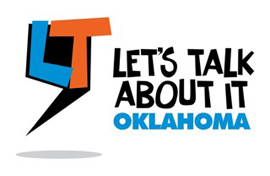 March 3: Leaves in the Wind (Evans Publications; December 1989) by LaDonna K. Meinders headed by Jamie Weaver
March 31: Hurrah for My New Free Country (University of Oklahoma Press; 1st edition May 1990) by Leon C. Fouquet headed by Bill Corbett
April 21: The Cherokee Strip (University of Oklahoma Press; Reprint edition July 8, 2003) by Marquis James headed by Emily Dial-Driver
May 19: On Coon Mountain (University of Oklahoma Press, January 1, 2009) by Glen Ross headed by Emily Dial-Driver
June 16: Flight from Innocence (University of Arkansas Press; First Edition edition January 1, 1990) by Judson Jerome headed by Brian Cowlishaw
For each of the five sessions participants will be provided with the book scheduled for discussion and an essay that gives insight into the overarching themes that connect the books.
"We are pleased to once again offer this stimulating program," said Har-Ber Village Museum Executive Director, Amelia Chamberlain. "We have a core group of readers that have participated each of the season we have offered this program, but we welcome new participants for this upcoming series." To reserve your space and schedule a time to pick up the first book, call (918) 786-3488 or send an e-mail here.
Books, services and other materials for this series are provided by Let's Talk About It, Oklahoma, a project of the Oklahoma Humanities Council with funding from the National Endowment for the Humanities. Funding for this series was provided by grants from the Inasmuch Foundation and Kirkpatrick Family Fund. Any views, findings, conclusions or recommendations expressed in these programs do not necessarily represent those of OHC or NEH.
Har-Ber Village is located at 4404 W. 20th St., Grove, OK.