Safety of amusement rides is government concern
April 14, 2006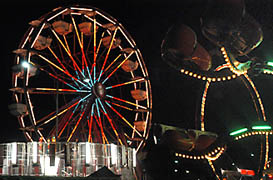 JEFFERSON CITY - The Division of Fire Safety within the Department of Public Safety is gearing up for the start of another amusement ride season. Since 1997 the Division has been tasked with oversight and enforcement of the Amusement Ride Safety Act.
"Missouri amusement ride regulations place an emphasis on safety first, however, patrons and parents play a key safety role as well," said State Fire Marshal Randy Cole. "Parents, children and other patrons should listen to ride operators' instructions, follow posted warning and rider restriction signs."
All amusement ride equipment is inspected annually using manufacturer's guidelines and nationally recognized standards. After an approved inspection, the division issues a state operating permit. The permit is valid for one year.
Legislative changes in 2004 authorize the Division to conduct "spot" safety inspections of amusement rides operating in the state. This inspection not only helps ensure the ride remains in a safe operating condition, but it also provides an avenue to ensure inspections conducted by state approved inspectors have been performed in conformance with the standards or guidelines.
If the Division discovers an inadequate safety inspection, they have the authority to revoke the inspector's approval status. If a safetydeficiency is identified during a spot inspection that could potentially be life threatening the ride will be immediately shut down. Before the ride may be placed back into service a complete safety inspection is required to be conducted by a Division inspector at the owner's expense.