Aspect of history often overlooked
January 07, 2014
"To bigotry no sanction, to persecution no assistance."
--George Washington
by Paul Teverow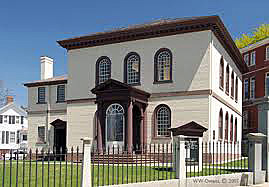 My native Rhode Island claims the oldest Jewish religious structure in the United States, the Touro Synagogue in the once-thriving seaport and now-thriving tourist destination of Newport. Construction began in 1759; the building was dedicated on December 2 [the first day of Chanukah], 1763.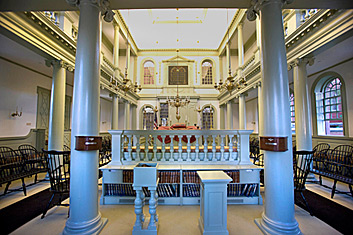 If you compare contemporary descriptions of the interior and an 1865 photo with the more current pictured above, you can see that the synagogue [now Congregation Jeshuat Israel] has been remarkably well-preserved. But it's more than an outstanding example of colonial American architecture. The synagogue ties in with a larger story of the Jewish presence in what became the United States and of the freedom of religion that Jews and indeed all Americans have come to enjoy.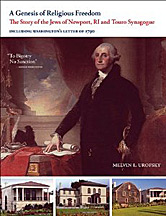 A Genesis of Religious Freedom: The Story of the Jews of Newport, RI and Touro Synagogue (Heritage Muse, Inc., June 2013) grew out of research that Professor Melvin Urofsky, a renowned scholar of law and history, provided for exhibits in the Loeb Visitors Center, adjacent to the synagogue. Former Ambassador John L. Loeb Jr., a descendant of some of the synagogue's founders, funded the center. He also asked Urofsky to expand this research into a "full-length history of the Jewish community of Newport and Touro synagogue. [p. v]" The result is this richly illustrated volume.
To be frank, although I very much appreciated this gift from a friend, I initially wondered how much I could learn from a commemorative book about a site that I had visited several times, most recently in June. Certainly, I appreciated how the images of colonial era Newport and of people and documents that played a role in the story of the synagogue would make the book a nice addition to a Jewish library or home. But this is not a coffee-table book! As I read the text, I came to appreciate how much Urofsky has added to the story of the Jews of Colonial and Revolutionary Era Newport and their important contributions to America's heritage of religious freedom.
The first Jews, Portuguese-speaking refugees fleeing Brazil, arrived in Newport in 1658. For the next few decades, Jews had an intermittent presence in one of colonial America's most important seaports. The first document attesting to their presence was a 1677 deed for the purchase of land for a Jewish cemetery. The deed itself reflects the precarious nature of this presence in its provisions in the event that "the Jews should all depart the island again . . . [p. 22]" By 1740, however, the well-established Jewish community numbered over 100 and included some of colonial America's most prosperous merchants. Most prominent were half-brothers Moses and Aaron Lopez. They were among the conversos who, for more than 200 years after Portugal had forced Jews to convert to Christianity, had secretly maintained a Jewish identity, secretly practiced their religion, taken advantage of opportunities to flee the country, and even helped smuggle out other family members. Most of Newport's Jews were Sephardic, but the community also included Ashkenazic Jews from Germany. Apparently, the latter were comfortable worshipping in a synagogue that followed the Sephardic style of worship.
As I'm sure most of you know, Roger Williams established the colony of Rhode Island [or more properly, Rhode Island and Providence Plantations] on the basis of religious toleration and the absence of a state-supported church. However, as Urofsky shows, both he and subsequent Rhode Island leaders expected it to be a Christian society. As such, Jews and others not belonging to Protestant churches were excluded from full citizenship. In 1762, the Rhode Island General Assembly and Superior Court denied the petitions of Aaron Lopez and Isaac Elizer for naturalization as citizens, on the grounds that "no person who does not profess Christianity can be admitted free of this colony [p. 30]." Because they enjoyed freedom of worship and eventually full property rights, most Jews were willing to accept a status which, after all, was considerably better than in most of Europe and no worse than in England itself. But not all Jews submitted so willingly. Following the 1762 court decision, Lopez relocated to Massachusetts and Elizer to New York, which both granted their requests for naturalization. In 1776, when the Rhode Island General Assembly required anyone suspected of opposing the patriot cause to swear an oath of allegiance to the newly independent state and to support its armed struggle with Great Britain, Newport merchant Moses Michael Hays refused, on the grounds that "I am an Israelite and am not allowed the liberty of a vote, or a voice in common with the rest of the voters . . . [p. 75]" Hays eventually did sign the oath, but only after the General Assembly decided to require it of all men. Furthermore, within a year, Rhode Island extended the vote to Jews, though it was not until 1842 that they gained the right to hold elective office.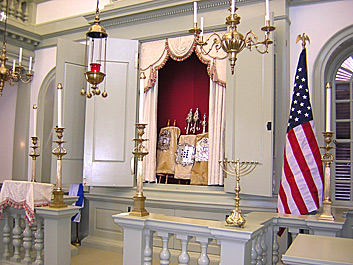 This ark holds the Torah scrolls used by the congregants of Jeshuat Israel in Newport, Rhode Island. While an active place of worship, the Truro Synagogue, designated a National Historic Site in 1946, is toured by thousands of visitors each year.
Well before then, however, the synagogue and Newport Jews made another important contribution to American Jewish history and to the cause of religious freedom. In 1790, President George Washington visited Rhode Island as a goodwill gesture toward the last state to ratify the Constitution. Moses Seixas, a prominent businessman and warden of the congregation, welcomed Washington with a letter expressing the gratitude felt by the Jewish community to live under a government "generously affording to all liberty of conscience, and immunities of citizenship." In his reply, Washington echoed some of the words of Seixas' s letter [including the famous words "to bigotry no sanction, to persecution no assistance"] and affirmed the "enlarged and liberal policy: a policy worthy of imitation" whereby the United States extended full and equal citizenship to all, regardless of religious affiliation [p 80].
Even those familiar with Washington's letter will probably learn new things from Urofsky's account. For one thing, he includes the full texts and facsimiles of both Seixas's and Washington's letters. He also offers circumstantial evidence that then-Secretary of State Thomas Jefferson, who accompanied Washington on the trip and who of course was a strong advocate of religious liberty, may have assisted in drafting the reply. Of the several letters received during his Rhode Island visit, Washington wrote by far the longest response to the synagogue's.
Finally, Urofsky notes the rapid decline of Newport's Jewish community not long after Washington's visit. Newport never did recover from the loss of trade that resulted from the British occupation and then end of trading privileges with Britain's Caribbean colonies. Not surprisingly, the Jewish presence declined with this commerce. The last Jew left Newport in 1822. Before then, the Torah scrolls had been sent to New York City's Congregation Shearith Israel, which was eventually granted the deed to the synagogue. The Touro Synagogue structure itself survived and acquired its name thanks to the generous bequests of brothers Abraham and Judah Touro, both born in Newport, and to the efforts of the Gould family, Newport Quakers.
Urofsky concludes with a brief history of the revival of Newport's Jewish community in the later 1800s and with the story of how the synagogue has become a National Historic Site, one that I can assure you is well worth a detour, even if your planned destination is Boston or Cape Cod. Of course, you'll also enjoy other sites in Newport. But whether or not you can make that trip, I heartily recommend this book to anyone interested in American Jewish history. It is a wonderful example of how much the well-told story of just one building can teach us about the past.
---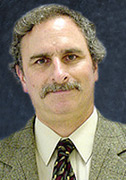 Paul Teverow, Ph.D. has been a professor of history at Missouri Southern State University in Joplin since 1982. Besides involvement in MSSU's international mission, his professional activities include writing for Historical Abstracts and two terms serving as president of the faculty senate. He holds a B.A. in history from Case Western University and advanced degrees in history from Ohio State University. He has served as president of the United Hebrew Congregation in Joplin.

---