Surviving the RAGBRAI
December 30, 2014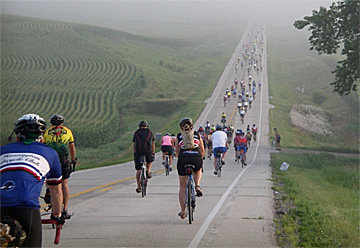 Brian David Bruns thought riding into the mist during the nearly 500-mile bike ride across Iowa "was cooling." Everyone else, he writes, thought it was like "riding into a steam bath."
by Paul Teverow
For almost my entire life, I have enjoyed bike riding. In good weather, I ride 15-20 miles a couple of times a week. I also participate in maybe three or four organized bike rides a year and usually come in pretty close to last on the 30-50 mile routes. But unlike several Joplin riders I know, I have never done anything on the order of RAGBRAI, the acronym for The [Des Moines] Registerís Annual Great Bicycle Ride Across Iowa. The week-long, nearly 500-mile west-to-east ride from the Missouri River to Mississippi River borders of Iowa is perhaps the single most famous bike tour in the country.
Brian David Bruns, who grew up in Cedar Rapids, Iowa, is a travel writer most famous for Cruise Confidential, an account of his experiences working for Carnival Cruise Lines. At the invitation of Aaron Owen, his best friend from high school, he decided to enter RAGBRAI in 2011. Bruns began by taking training rides in the desert just outside Las Vegas, rides that probably left him better prepared than his Portland friend Aaron for the miserable heat [though not the humidity] of Iowa in late July, especially during that particularly oppressive summer, when, as most you will recall, the temperatures in the Plains region regularly topped 100 for weeks on end. When Bruns finally did make it to Iowa, he was surprised to learn that Aaron had also invited a man known to readers only by his nickname, Cheek, who has had a long, mysterious, and somewhat checkered career in the Navy. A good deal of the plot revolves around Cheekís boorish and unpredictable behavior.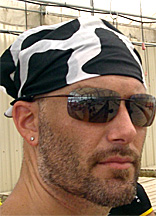 Calling his bandana "local decor" for Iowa, Bruns claimed that having been from the dry climate of Nevada caused him not to be used to sweating. Temperatures on the RAGBRAI exceeded 100-degrees F. And the air was exceptionally humid.

Rumble Yell (World Waters), the 264-page account of the ride makes for an easy and entertaining read. Almost everything that could go wrong does. Brianís arrangement to have his bike picked up from his home on Shiny Skies Drive for transport to Iowa falls through when the shipping company looks in vain for "Chinese Guys Drive."
Barely 200 yards into the ride, the spokes on Aaronís bike break. It is the first in a chain of mechanical problems that plague the entire team, but none more than Aaron, the most accomplished rider of the trio with supposedly the best-maintained bike. Not surprisingly, Cheek, who had made no effort to train or to have his bike tuned up, had his drive train break down, but as luck would have it, just 100 yards from a mechanic who repaired it in 90 minutes. We also learn that the ride across Iowa is nowhere near as flat as you would imagine. Most days involved an elevation gain of several hundred feet.
But itís not all about trials and tribulations. Bruns also goes into detail about what has kept people coming back for RAGBRAI: the food [his favorite was the 1 ĹĒ thick chops sold by the most famous ride vendor, Mr. Pork Chop, from a giant pink bus], the nightly beer gatherings, and above all the friendly people in the small towns across the route. Along with one of the Amazon reviewers of Cruise Confidential, I have to wonder how much literary license Bruns takes, particularly with the conversations involving his Romanian wife Aurelia and the notorious Cheek. But the pictures he has posted here do show him at the places he described and with some of the people he met along the way.
I canít say that this book has inspired me to enter the lottery [yes, you read that correctly] for the next RAGBRAI, it has convinced me to look farther afield and to be just a bit more ambitious when I plan my annual ride circuit.

Paul Teverow, pictured at left, is a professor of British and European history at Missouri Southern State University in Joplin. With a Ph.D. in History from Ohio State University, Teverow specializes in the history of medieval Europe, Russia and the Renaissance and Reformation periods. He is winner of the Outstanding Teacher Award (1995) AND the Outstanding International Teacher Award (2008). Bicycling is his passion as well as "trail blazing." He is a founding member of the Joplin Trails Coalition that established the Ruby Jack Trail and the Frisco Greenway Trail, rails to trails projects in Southwest Missouri. He also helps organize the Maple Leaf Bicycle Tour, that took place last in May 2014 with 15 to 100-mile routes.
---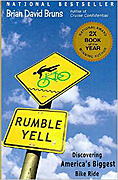 Title: Rumble Yell: Discovering America's Biggest Bike Ride
Author: Brian David Burns/ Steve Urban, editor
Paperback: 274 pages/Kindle: 421 KB
Publisher: World Waters (May 13, 2013)
Language: English
ISBN-10: 0985663510
ISBN-13: 978-0985663513br>ASIN: B00CU3PGKO