Reddin awarded Truman State teaching internship
February 27, 2009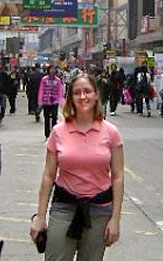 Rebecca Reddin, pictured here in Hong Kong, is not a stranger to the Orient.
Joplin native Rebecca Reddin will be spending the next few months in China as part of a program at Truman State University.
A senior linguistics major, Reddin was chosen for the teaching internship in China through the Truman-China Partnership. Reddin will team up with a fellow Truman student and teach English in the ShuiZhai high school and occasionally visit nearby villages. The Partnership, directed by Dr. Tim Farley, a Truman professor, began in mid-February and will last until early June.
Recently Reddin also was honored for her inclusion on Trumanís Fall 2008 Presidentís List. To be eligible for the Presidentís List, a student must earn at least 12 undergraduate semester hours of credit with a perfect 4.0 grade point average.
Rebecca Reddin is the daughter of Steven and Kelly Reddin of Joplin.