George Washington slept here is too often claimed
February 13, 2013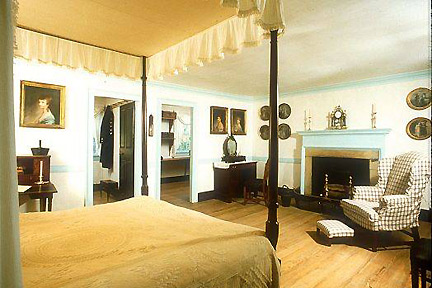 George Washington really did sleep here at his Mount Vernon estate, along with wife Martha. He also died in bed here from a throat infection that his doctors diagnosed as quinsy. The distraught wife of 40 years refused to sleep in the room further, retreating to a bed chamber on the third floor. For a virtual tour go here.
George Washington wasn't born into high echelons of society. With the death of his father when he was 9, George knew he would never be sent to England for his education or inherit a fortune. In order to achieve fame, George threw himself into his self-devised program to create his own destiny, and became the most iconic figure in American history. Since George traveled constantly, there was a lot of reason for people to say, "George Washington slept here." This week, TopTenRealEstateDeals.com has a look at five homes currently for sale that have historic connections to the Father of the United States, including two homes where he actually slept.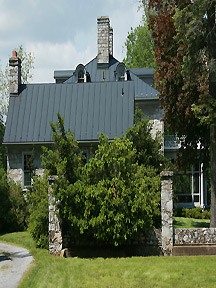 FAIRFIELD MANOR, SOUTH ELEVATION
Virginia's Fairfield Manor farm was owned by George's first cousin, Warner Washington, who owned it for 39 years, and where George and Martha frequently visited. In those days, since travel was by horse or carriage, visitors stayed at their destinations for long periods of time, resulting in large homes with many bedrooms. Prior to Warner Washington's ownership, the farm was owned by George Washington's best friend George Fairfax and his wife, Sally, for whom Washington had a deep unrequited love. For the first time in 183 years, the 8,400 square foot stone manor house built in 1768 on 38 acres is for sale at $2,775,000.
More George Washington homes for sale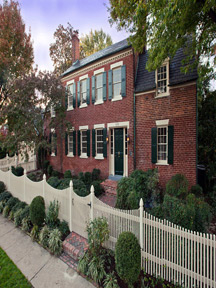 GEORGE'S TAVERN STOP
A Virginia inn where George Washington would stop and have a few drinks with his friends on his way back to Mt. Vernon from Washington D.C. was built in 1780 as Spring Gardens Tavern. Legend has it that George spent his last July 4th here where he watched the local militia parade. Today, it is a beautiful red brick home with green shutters, white picket fence, gleaming wood floors and lots of white woodwork in the historic Old Town neighborhood of Alexandria. The home is 4,296 square feet with 4 bedrooms, 5 bathrooms plus new guest and game rooms for sale, asking $4 million.
Dr. John Cochran was the surgeon general of the Colonial Army during the Revolutionary War. He was a close friend of General George Washington and served as his personal physician during the war. After the Revolution, General Cochran's son, Major James Cochran, built a horse farm for his father in Fort Plain, New York where he lived until his death in 1807. The doctor's 4,546 square foot main estate has been completely restored and the property includes a large barn, 24 horse stalls and .5-mile training track. Now for sale at $995,000.
George Washington was always on the go. One week he was at his Virginia home, the next week in Pennsylvania or Delaware. There were no motels or trot-through McDonald's windows so George would often stop at a private home for a hearty meal, some conversation and perhaps a bath. This was the case when, according to the President's diary, he stopped to rest at the Green House in New York. The home has had only two owners since it was built in 1786, and is now a business office that has been well maintained and can easily be converted back to a single-family home. It is for sale at $1,299,900 complete with an official George Washington Historical Society plaque to prove the Father of the Country was once there.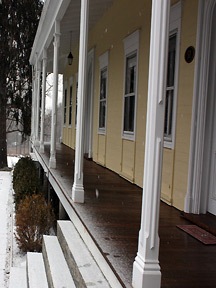 FOWLER HOMESTEAD
Another home where Washington really did sleep is the Fowler Homestead in Brewster, New York. The general slept in the home while his company of soldiers camped in the yard for several days during the Revolutionary War. Food for the soldiers was brought out from the main house and the door from which the food was passed is still preserved in its original position. Having formed a friendship with the owners, Washington later stayed at the house on his trips between West Point and Connecticut. The 17-room, 5,500 square foot home is for sale at $475,000.