Own a Walton retreat in Jackson Hole
October 27, 2013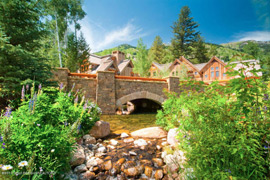 WALTON PROPERTY FOR SALE
Christy Walton, the daughter-in-law of Walmart founder, Sam Walton, appears to be the wealthiest woman in the world worth an estimated $35.4 billion, $15.7 billion she received when her husband died in 2005 when his experimental plane crashed in a Wyoming national park. Christy wants to add $12.5 million to that figure by selling her 2.5 acre Jackson Hole, Wyoming vacation home.
In a natural setting, the 8,606 square foot home with its six bedrooms and seven baths is unique. The floors are 200-year-old reclaimed oak, the windows are handcrafted by Albertine. There is a two-bedroom summer guest house nestled within the landscaped grounds, a three-car heated garage and two working fireplaces in the main house. The property comes with a sauna, gym, game room and walls of glass to view wildlife and the surrounding mountains from almost every room. According to the photographs and the agent's apt description, "Ellen Creek meanders through the grounds, past abundant wildflowers, against the panoramic backdrop, creating small ponds and waterways."
Want more information about this property> Go here.