Price is reduced on Sinatra's former penthouse
July 11, 2014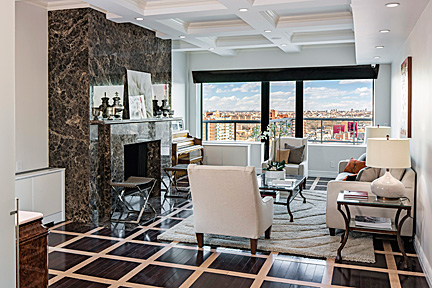 The living room area of Frank Sinatra and Mia Farrow's former apartment has access to a terrace overlooking New York City. Reportedly, friend Sammy Davis Jr. enjoyed dropping champagne glasses from the terrace onto FDR Drive below.
In the 1960s, Frank Sinatra was at the top of his show business career. He was a good friend of John Kennedy, supervising much of the President's 1961 inauguration festivities, and partied with his Rat Pack friends Dean Martin, Sammy Davis Jr, Peter Lawford and Joey Bishop. Frank was the biggest name in Las Vegas where he regularly sold out the Sands' Copa Room. He was a movie star in Von Ryan's Express, The Manchurian Candidate and Oceans 11. Still in the 1960s, Frank started his own record company, won an Emmy for his TV special Frank Sinatra: A Man and His Music and a Grammy for his song, Strangers in the Night.
In his spare time, Frank also did quite a bit of design work on the New York penthouse where he lived with Mia Farrow. Frank and pixie-faced Mia met on the set of Von Ryan's Express in 1965. They were married in 1966, lived in their stunning Manhattan glass-walled penthouse and were divorced by 1968. When Mia's movie Rosemary's Baby production time ran over and she refused to quit the film to be in Sinatra's film The Detective, Frank handed Mia divorce papers in front of her movie cast crew.
According to the apartment's listing agent, Frank was very active in the penthouse design when it was under construction in 1961 on Manhattan's Upper East Side. And how his pal, Sammy Davis Jr., enjoyed tossing champagne glasses down on FDR Drive from the apartment's terraces. Frank loved to entertain his wide circle of friends that ranged from presidents, royalty and Hollywood's biggest stars to religious leaders and mobsters. His New York penthouse was designed for parties and socializing with 18-foot ceilings and glass walls overlooking the city and East River. During the eleven years Frank owned the home, it was a known swinging party place that welcomed not only his Rat Pack gang but also the likes of President Kennedy, Andy Warhol and Marilyn Monroe.
With a modernization undertaken by the current owner after she bought it in 2008, the 3,200-square-foot apartment has four bedrooms, six baths and an additional 2,000 square feet in two wrap-around terraces overlooking the river and city. The penthouse was previously priced at $7.7 million - now listed at $4.995 million. The listing agents are Jacqueline Teplitzky and William Martin of Douglas Elliman Real Estate in New York City.
Commentary by Terry Walsh, marketing coordinator for Top Ten Real Estate Deals.