Who Can Live to Be 100?
October 27, 2009
by Diana R. Milne
My dad recently celebrated his 90th birthday and our family hosted a party in his honor. Jokingly, I told Dad that on his 100th birthday we'd celebrate by going to Hawaii…and that he could pick up the tab! He didn't hesitate for a minute before saying, "It's a deal."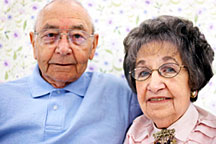 Do you aspire to live to be 100 like my dad? If you do, you'll be interested in this information from the "Work and Family Life" newsletter (May 2009, Vol. 23, No. 5).
The article said that the number of 100-year-olds is increasing. The Boston University Medical School has been doing research since 1994 on this subject and has discovered some interesting data. The study involved both men and women who have lived to be 100 and the participants were from a wide variety of backgrounds.
What did these 100-year-olds have in common?
They were in general good health, and when health problems did arise, they had the financial resources to cover health care costs.
Many of the women had never been married.
Of the women who had married and had been mothers….many of them gave birth after the age of 40.
They were extremely independent.
One-third of the people studied had experienced no dementia at all. Of those who did, the dementia had occurred very late in life.
They had many coping skills which helped them deal in a positive way with a variety of stresses they had faced.
Most are non-smokers.
They were not obese. While these common factors have a big impact on longevity, doctors don't discount your genes and family history.
Several studies confirm that extreme old age tends to run in families. Many children of centenarians also have significantly lower rates of age-related diseases, such as high blood pressure, diabetes and heart disease.
--reprinted from Silver Threads, a collaboration of University of Missouri Extension specialists