Chandler is honored by Missouri 4-H Foundation
March 20, 2014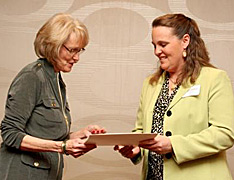 Judy Layher (left), daughter of Frank Graham, presents the 2014 Frank Graham Volunteer Leadership Award to Jennifer Chandler. (Photo by Amanda Stapp)
Jennifer Chandler was named a 2014 Frank Graham 4-H Volunteer Leadership Award winner by the Missouri 4-H Foundation. The presentation took place on March 14, 2014. Chandler was recognized for her commitment to the University of Missouri Extension 4-H youth development program in Jasper County.
"It is our great pleasure to honor Jennifer Chandler with the Frank Graham Volunteer Leadership award for her dedication to Missouri 4-H." said Cheryl Reams, executive director of the Missouri 4-H Foundation. "It is volunteers like Jennifer who have made Missouri 4-H the quality experience for young Missourians that it is today, and we are indebted to Jennifer for her service."
Chandler has served as a 4-H project leader in Jasper County for 15 years leading projects in visual arts, arts and crafts, sewing, dairy, horse and all areas of horsemanship. She served as the Jasper County 4-H Parents' Association secretary for four years. In addition to her project leadership, she has managed the county fair concession stand, and served as a chaperon for Legislative Day, livestock judging, meats judging, hippology contests and at the Missouri State Fair.
"Jennifer always steps up when help is needed to lead a project, help out with an event, or serve as a chaperon," Reams added. "Her strong creativity, enthusiastic leadership and willingness to do whatever it takes to help the club makes her the perfect volunteer."
The Frank Graham 4-H Volunteer Leadership Award recognizes leaders who work to guide our youth. Graham served as director of MU Extension 4-H Youth Programs from 1958 to 1975. During his tenure of 33 years, he was an avid supporter of volunteer leadership, believing that volunteers are the foundation of the 4-H program.
Celebrating 64 years of service to 4-H youth, the Missouri 4-H Foundation was established to secure and manage funds for the Missouri 4-H youth development program.