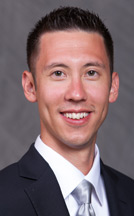 Michael Flenniken, pictured, general manager of the Red Lobster in Joplin, has been presented with Darden Restaurants' top honor – the Joe R. Lee Diamond Club Award, named after the company's retired chairman and CEO. Now in its 15th year, the award is presented annually to general managers throughout North America who demonstrate outstanding leadership by living Red Lobster's core values of respect, integrity, genuine caring, hospitality and teamwork while also achieving top financial performance in the company's previous fiscal year. Flenniken joins an elite group of 34 general managers selected this year from the more than 700 Red Lobster restaurants in North America.
"Michael is a great example of a Red Lobster leader who values every crew member's contributions, demonstrates genuine caring and respect for our guests and practices integrity in all aspects of our business," said Dave Pickens, president of Red Lobster. "He is a leader who encourages teamwork and ensures that the Joplin restaurant is committed to serving great tasting, freshly prepared seafood in a relaxing, seaside atmosphere for all of our guests to enjoy."
The Joplin Red Lobster is located at 3131 Range Line Rd (corner of 32nd Street).