Joplin Red Lobster gets new manager
February 17, 2014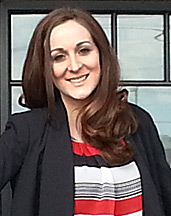 Charissa Callaway, pictured, began her career as a hostess six years ago at Red Lobster. Two short years after joining the company, Callaway was quickly promoted into Red Lobster's management training program. Today, she leads more than 85 team members as the new general manager of the Joplin location.
Callaway was previously a staffing and training manager at the Farmington, New Mexico Red Lobster where she was known for her passion for consistently helping her restaurant and team members succeed. This led to her promotion.
"Charissa is a natural leader who thrives on developing people and achieving high standards for her restaurant," said Michael Toon, director of operations for Red Lobster. "She is loyal to her team and her guests - ensuring that every employee gets the help they need to make their workday a success, and that guests are treated with courtesy and respect."
A graduate in hospitality and restaurant/tourism management from New Mexico State University, Callaway demonstrates her ability to foster relationships and to recognize steady customers.
"I have always had a natural passion for food and feeding people," said Callaway. "I think that one of the most intimate ways we can tell a person we love them, is through food, and that's what got me where I am today. I look forward to serving the Joplin community and getting to know my new team members and all of our guests."
Callaway and her team also support the local community through various initiatives, including a partnership with Habitat for Humanity and the local American Red Cross. Additionally, her team participates in the Darden Harvest program, where surplus, wholesome food is donated to the local Salvation Army on a weekly basis.
The Joplin Red Lobster located at 3131 Range Line Rd. (corner of 32nd Street).