Business must flourish; don't drink the water
December 20, 2006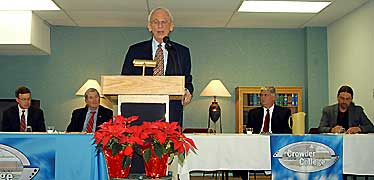 Senators Kit Bond and Jim Talent were introduced by Crowder College Board of Trustees Chairman Jim Tatum at a meeting on campus on December 18, 2006, to introduce their water quality improvement projects for Southwest Missouri. Tatum quipped that it was the first time in history two Senators were on campus at the same time. He couldn't resist saying that they were "slow recognizing the importance of Crowder." He later praised Bond, whom he called a friend of some 40 years, for his commitment to serve and attention to the issues. Pictured from L-R are Talent, Bond, Tatum, interim Crowder President Alan Marble and Drew Holt, an environmental quality specialist for the University of Missouri Extension - Southwest Region entrusted with securing grants for several community-based watershed efforts.
A room in Newton Hall on the campus of Crowder College, Neosho, MO was the setting on December 18, 2006, for a water quality improvement project announcement by U.S. Senators Kit Bond and Jim Talent. Since WQIP is a partnership of the Environmental Resources Coalition, a non-profit from Jefferson City; the Elk River Watershed Improvement Association (Joe Pease of Tyson is a founding member); the Shoal Creek Watershed Improvement Group; Crowder College; and the city of Noel, representatives from those groups filled the room. Politicians and their representatives also were present as well as Drew Holt, an environmental quality specialist for the University of Missouri Extension - Southwest Region who spoke.
In outlining projects supported by WQIP funds, Holt included:
Creation of shallow creek pasture ponds as an alternative water source to reduce fecal run-off into Upper Shoal Creek, a best management practice already funded
Cost share activities for the maintenance, repair and replacement of septic tank systems, especially within one half mile of a creek.
A streets to streams trail project for the city of Noel
Educational seminars that include a demonstration of advanced on-site sewer systems and treatment and removal of nutrients in lateral systems as sponsored by Crowder College
Education towards low impact development that takes into account the natural features of an area [Unfortunately officials from the city of Joplin weren't notified of the meeting. They need a lesson in the environmental effects of clear-cutting. Reference here.]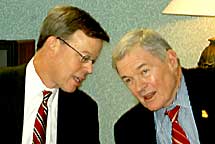 Senator Jim Talent, soon to be replaced by Democrat Claire McCaskill, confers with Senator Kit Bond. Talent had prefaced his remarks to the audience before discussing the issue of water improvement that it was "not appropriate" for him to do anything since the election, but.....
WQIP is not a new project
The Elk River and Shoal Creek watershed improvement groups were part of a coalition of six seeking funds two years ago to improve the quality of water in Bull Shoals, Table Rock and the James, Spring and Elk rivers. At that time Senators Bond and Talent chose the ERC, a non-profit out of Jefferson City, to administer funding for water protection efforts in what was considered "the Southwest Region." ERC best met the Senators' philosophy, the distribution of money labeled a "common-sense" approach.
WQIP organized in individual states manages federal capital funds consisting of federal EPA construction grants and special federal appropriations grants. Initially, Bond and Talent announced appropriations for Missouri's WQIP, requiring no matching funds, of $10 million to be dispersed over five years, an appropriation in August 2004 that was to be tucked into the Senate VA-HUD bill funding the EPA. However, the actual amount secured since 2005 has shrunk in half.
ERC already has claimed credit for the distribution of $962,000 in infrastructure grants for phosphorus removal in the Table Rock Lake Watershed split by five agricultural communities. Critics have accused the government of earmarking taxpayer dollars for clean-up while allowing industry, including large CAFOs, the practice of self-monitoring and consequently the opportunity to continue to pollute.
The "common-sense" philosophy outlined by Bond and the development of "realistic goals" was first mentioned by Steve Taylor of ERC. He said that the mission of WQIP is to improve and protect water quality while enhancing economic development. "These funds will be used to identify and address major quality problems while protecting the multi-billion dollar industries of Southwest Missouri," Taylor concluded.
---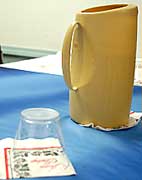 A water pitcher, one of two placed at the head table, stands next to one of many unused cups. [Only one person seated at the table drank some of the water. It would be incredibly crude to suggest that's why he made a beeline for the men's room.]

---
Both Senators passed the buck to individuals and local communities for solving the water quality issue in Southwest Missouri even though Talent called it "the most pressing issue facing the whole state." But favoring the empowerment of volunteer groups to take responsibility for a watershed rather than compliance from the threat of lawsuits or a regulatory fine is something the administrative court petitioners trying to stop the expansion of MoArk, the Neosho chicken CAFO that has a history of environmental abuse, apparently find extremely laughable.
"Responsibility lies with the polluters, not the volunteer groups that detect it," commented Mark Adams, a member of a stream team documenting high E. coli counts and a strong voice in support of protecting the environment. Adams, who was a founding member of the local citizen's group, Southwest Missouri Citizens Against Local MoArk Expansion, finds it "a true miracle" that the man whom he's affectionately called "Saint Bond" would see "the improvement and protection of water quality" at the same time that "millions more livestock are added to an impaired watershed."
Just what motivated Senators Kit Bond and Jim Talent to come to Neosho at this time to promote water quality improvement projects for Southwest Missouri (although they were in a hurry to go somewhere else) seems to be a mystery to many individuals who have been fighting for years to stop further degradation of the environment in which they live, in spite of the continuing efforts of heavily funded watershed groups.