Emma France makes video appeal to free daughter
December 04, 2007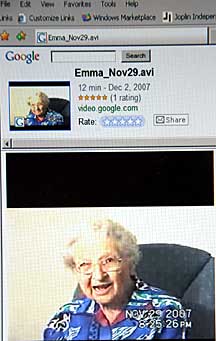 An appeal made by Emma France to free her daughter Delores Forste has been posted on a Google website. Delores Forste is in a San Bernardino, CA jail awaiting extradition to Missouri where she faces charges in Jasper County of kidnapping her mother, interference with custody and financial exploitation.
In the video posted here France claims that her daughter did no such thing as kidnap her. Instead she claims that the public administrator, Rita Hunter, "railroaded her" in getting her declared disabled and incompetent and implied that getting control of her money was the motive.
France wants everyone to know that she was quite competent contrary to a court ruling made by Circuit Court Judge David B. Mouton of the Probate Division at Carthage, MO on May 15, 2007.
"How come you took Rita Hunter's word?" France in the video asks the judge. "I wanted to talk to you."
The 95-year old woman, now living on her own in California because of her daughter's intervention, claims that nobody made an attempt to transport her to the courthouse--this would include Hunter and Shannon McKinney, a guardian ad litem that was awarded $100 for legal services allegedly to look after France's best interests. According to Missouri statue 475.075 the appointed attorney is obligated to visit the client prior to the hearing and "act with care to safeguard and advance the interests of the client."
The right to be present at one's trial is guaranteed by Missouri law as is the right to a jury trial, presenting evidence on one's own behalf, cross-examining witnesses and the right to an open hearing. According to France, nothing like this was explained to her.
A medical certificate filed with the court signed by Stephen Bazzano, DO, with the address 111 E. 7th St., Galena, KS, lists a diagnosis for France as having dementia, depression and anxiety, together with a prognosis described as progressive, permanent. The hand-printed document also suggests France spends money on lottery scams rather than "adequate medications, food or clothing" and that she is "limited" by "only what she chooses to hear."
The document that is written in clear and concise handwriting could not have been written by Bazzano, according to a reliable source who told us that his hand-writing is very difficult to read. France had previously claimed that Hunter brought her and the document to Bazzano's office in Galena and that the doctor just signed it, only asking her if she were Emma France.
The video was posted by Don Hensley, who claims to be a long-time friend of the Forstes. He told us in a telephone interview that he wanted to do anything to help and called France a "sweetheart of a woman."He used the term "vile," although he said that no word was sufficient, to describe the situation and the amount of money he says Hunter charged France's estate--including $187.50 to take France to Bazzano's office the day before the hearing, and over $400 for transportation and visitations after having France committed to McCune Brooks Hospital in Carthage, the day after the hearing. The public administrator expense report with expenses filed through September 27, 2007 shows a total of $3,457.50. And echoing the sentiments made by France in the video, Hensley wanted to know why Hunter was able to take France to Bazzano's office yet not be able to take her to court.
Regarding the charge made against France that she couldn't take care of herself because of an involvement in "lottery scams," Hensley said that he didn't think it was an excuse to declare someone incompetent because that person spent her money on gambling. "If Emma put all of her money on the red seven on a roulette wheel, that only affected her daughter Delores' inheritance," Hensley explained. "It wasn't the money she used to live on."
Delores Forste's husband of 48-years, Steve Forste, who so far has not been picked up, has been told that an arrest warrant for him also has been issued. Last Friday Steve Forste drove his mother-in-law and himself about 225 miles to the jail where he wife is incarcerated. He said they were allotted 15 minutes to visit, enough time to pass his wife money for the commissary.
For an updated article by Susan Redden, reporter for the Joplin Globe, "Woman, charged with kidnapping mother, released on bond," go here.
For another article on the subject, go here.