Joplin Council seeks to curtail meth labs
February 23, 2011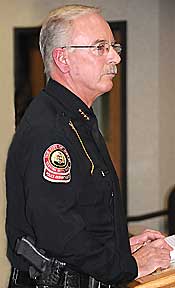 Joplin Police Chief Lane Roberts addresses the Joplin City Council in support of a bill to make methamphetamine precursor drugs prescription-only. He called Joplin the number one producer of meth labs in the state of Missouri.
Attempting to counter all the arguments that may be made in opposition to Joplin Council Bill No. 2011-006, an ordinance that basically would prohibit the sale within city limits of ephedrine, pseudoephedrine and pseudoephedrine-containing products without a prescription, Police Chief Lane Roberts was first to take the podium at the February 22, 2011 Joplin Council meeting where the bill was presented in its first reading (out of three). If passed, it would go into effect May 1, 2011.
Lane called methamphetamine the "most addictive substance ever faced on its first exposure" and reminded everyone that meth can't be made without a form of a pseudoephedrine-type drug. Lane's most persuasive argument in favor of restricting drugs that are the chief ingredient in the manufacture of methamphetamine deals with meth's volatility and its danger to the health of law enforcement after exposure.
"The ordinance is not the solution to the meth problem," Lane said. "That's not its intent. Its intent is to eliminate meth labs." And "yes" was Lane's answer to "will it inconvenience some people?"
Addressing the argument that an individual's liberty would be infringed upon by having to obtain a prescription for a pseudoephedrine-containing product, Lane said that one's liberty does not supersede anyone else's liberty. He called attention to the rights of rental home owners whose income is seriously jeopardized by having their properties contaminated or burned to the ground.
"I have a clear conscience in recommending this," Lane said, further making the audience aware that in Oregon and Mississippi where such a law had been passed, the incidence of meth labs fell dramatically.
Following Lane's testimony was that of Det. Sgt. Jason Grellner, the south central regional director of the National Narcotic Officers' Association Coalition, statewide agencies involved in providing drug enforcement training for law enforcement officers, drug resistance education to the public and effective representation for narcotic officers with legislators.
While others also spoke in support of the law, Grellner's personal interest in seeing the elimination of meth production in Missouri was the most poignant. He had inhaled anhydrous ammonia during an investigation, he said.
"It only took one half second after smelling a Coleman container," he explained, before incurring lung damage. This reminded him of the number of children who are exposed to meth labs in their homes. He cited the 300 that are currently in foster care after their parents were caught manufacturing the substance.
For those arguing that they would incur a financial loss having to secure a prescription, Grellner said that the cost for meth clean-up had to be factored in. He said that the millions of dollars spent by collection centers were tax dollars and that the expense amounted to as much as $85-90 per capita across the United States.
Grellner recognizes that a dynamo-effect is needed--adjoining cities to Joplin and those across the state as well as in neighboring states must enact similar legislation to successfully combat the scourge of meth labs. With this local law nothing would prevent a "meth head" from purchasing the product nearby and bringing it back to cook in Joplin.
"You can't ban autos because of drunk drivers" was the counter argument made by Bryan Stevenson, a lawyer and known lobbyist. He told the council that they were being asked to punish law-abiding citizens. "People will still have access to it [meth] except those without family physicians.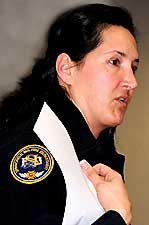 T.L. Newton of Springfield, pictured, a former probation/parole officer for Jasper County, spoke before the council as a private citizen. She was distressed over the lack of detox treatment in the state of Missouri and the consequent plea bargaining for meth offenses.
Judges plead everything down to a Class C felony, Newton said, explaining that Missouri was "far behind" when it comes to dealing with criminals. She gave an example of someone having committed a 15th felony offense and had it plead down to two years. She said that until laws are changed on how the state prosecutes, then no prohibition on the purchase of meth ingredients is going to work to eliminate meth producers.
Councilman Benjamin Rosenberg, a local dentist who said he had a daughter who was a doctor--presumably his source of information--called pseudoephedrine a "minor drug in actual usage." He said there were alternative drugs for the treatment of nasal congestion but he wasn't specific.
The lone dissenting voice on the nine member council was Councilman Bill Scearce. He cited preserving "individual freedom" as his reason for not supporting the bill. He also was concerned over the disconnect between the states adjoining Missouri and that making pseudoephedrine hard to purchase here would only create a black market for the drug, perhaps, sending the cost to as much as $100 a box.
Currently, it is a misdemeanor in Joplin for any store owner to knowingly sell over-the-counter more than six grams of a product whose sole ingredient is ephedrine, pseudoephedrine or phenylpropanolamine or nine grams for a combination product that can be converted into methamphetamine unless that product has an electronic anti-theft system preventing theft of it from the place of business where it is sold. Rather than test the efficacy of this tracking system, one pharmacy employee, who preferred to remain anonymous, said he would tell obvious "meth heads" seeking to buy the product that the store was out of it, sending them on their way. But then, profiling is not the American way.....