Missourians will get the bird
April 11, 2008
JEFFERSON CITY – Omar Davis, director of the Missouri Department of Revenue, recently announced that the newly designed license plate that all Missourians had an opportunity to vote on and select will soon be available.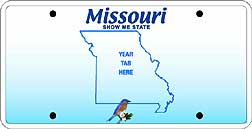 "We are excited to be a part of the comprehensive program that gave all Missouri citizens a voice in choosing our new license plates," Davis said. "The new design will display a bluebird sitting on a hawthorn branch and clearly represents our great state." Of course, the "Show-Me State" motto also will appear.
Beginning June 16, 2008, Missouri will introduce the newly-designed plate. The new license plates will be available at offices of the Missouri Department of Revenueand ready for all those whose plates are due for renewal in June, 2008, or are titling/registering a new vehicle. In addition to the new graphics, the new plate configuration will include the month of expiration with the first alpha letter representing the month of expiration and the tab color will indicate the expiration year. These elements will assist law enforcement in quickly identifying the proper registration of all vehicles.
Missouri last changed the design of its license plates 10 years ago; the normal shelf life of a license plate is five years. The Department is well ahead of the legislature's mandated deadline to create a new license plate by 2009.
The Department of Revenue held public meetings last year on the new plate design and chose Internet voting to allow Missourians to have an opportunity in choosing the look of their new license plate. According to a DOR spokesperson, the "outpouring of support and input to the new design was overwhelming and demonstrated that all Missourians had a voice in the selection process."
Over 258,000 votes were cast, with 145, 121 votes or 56.2% selecting the winner. The "reflection" came in second with 58,949 votes and the "ribbon" received 54,014 votes.
The article "Vote for Missouri's new license plate" may be found here.